ALBUM DIARY
---



30.06.2008 - A LETTER from the abyss
10.09.2008 - Fear Of The Studio
06.11.2008 - G.A.S.
07.11.2008 - Drum day 1
08.11.2008 - Drum day 2
09.11.2008 - Drum day 3
12.11.2008 - Feast upon the matter..
15.11.2008 - Progression
23.11.2008 - Percussion session
03.12.2008 - Red Lines Entwined: Guitar Studio
10.12.2008 - Bass stuff.
30.12.2008 - Getting there
31.01.2009 - The agenda
17.02.2009 - A roar from the depths
08.03.2009 - Getting closer!
08.03.2009 - Things are starting to look brighter


---
= 30.6.2008 =
A LETTER from the abyss

Hey old friends. And new ones too. Depth Beyond One's is still alive.

We are training and going to record a whole album as soon as possible. It will be called "Red Lines Entwined", and it will be a concept album. Theme is about destinies laid before us and carpe diem, seizing the moment and kicking destiny in its balls. Hard. But for real, asking questions about life itself and of the possibilities of man seizing the moment and getting hold of his/her own life. Or do we really have anything to say against the ever-flowing, all- destructing wheel of time?

Story has two main characters, Maximillian and Emma, who are related to each other eventhough neither one of them know about it. Their own unique "red lines", lifelogos, lines of life as it goes, are entwined together in a quite sad way. Different songs are from different times and the songs will not be in normal chronological timeline. They will be more like pieces of a puzzle and views from different situations and states of mind. Mystery will never be totally exposed, but there will be hints of what happened here and there. What is to come? Keep your eyes and ears open, you never know.
---
= 10.9.2008 =
"Fear Of The Studio"

Today I received a message from Antti that he has booked us a studio for three days and within that time we should have drum tracks for 7(+1?) whacky DBO tunes.. So I feel kind of nervous right now because those aren't too easy to play at all and I still haven't rehearsed them with metronome/click. But I feel confident because the songs are so good that I just can't afford to screw it all up!

I think this time our material's got even more dimensions than before. It's definately partly because everyone of us participated in writing riffs and stuff more than ever. There's things going on all the way from furious blast beats to the most cheesiest schlager(!?) choruses. Oldest parts were written before Ebb and now they finally found their place in the maze. We've also played four new songs live already so they've been hanging around some time, eagerly waiting to be released.

It took us a long time to decide whether we should do just EP/demo or self-release a whole album. And when we finally ended up having so/too much useful material, the choice was clear. Our lyric boys had again a strange and twisted story on their minds since the beginning so it was obvious that we would be doing another concept record. And that suits us just fine.

So, in a nutshell: I feel very strong for the upcoming album and it will kick some serious ass and balls! Now back at the lathe. More or less intense training before the judgement weekend!

-Jani
---
= 06.11.2008 =
"G.A.S."

Less than 24 hours to go!
Here's my drum setup if someone is interested:

Yamaha YD Series:
- bass 20"
- tom 10", 12" & 16"
- snare 14"
Paiste:
- hi-hat 14" (802)
- crash 16" (802)
- crash 17" (2oo2)
- china 18" (802)
- ride 20" (802)
Stagg:
- splash 8" (Myra brilliant medium) / 10" (SH regular medium)
- china 10" (SH regular)
Wuhan:
- china 16"
Zildjian:
- hi-hat 14" (Scimitar)

-Jani
---
= 07.11.2008 =
"Drum day 1"

Ok, so the first studio day is now behind. Time spent mostly setting up the kit, mics and stuff and testing sounds. Then some recording. The result is that we got the opening tune "Wraith" pretty much finished. Hope that next day will be more productive..

-Jani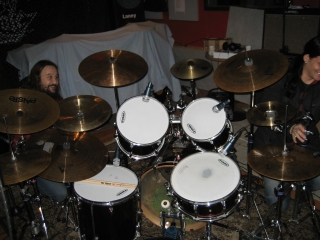 fun time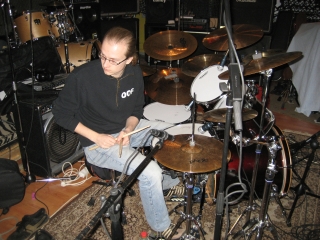 jarru the drum tech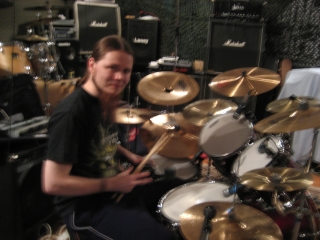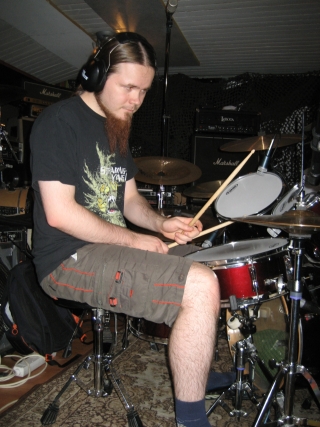 ---
= 08.11.2008 =
"Drum day 2"

Yeah, pretty good day! We got the rest of the songs recorded. Tomorrow some final tricks and we're off.

-Jani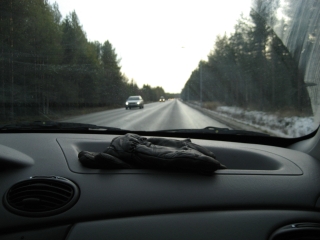 to the studio!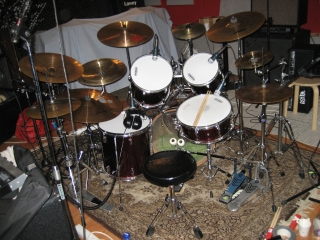 the office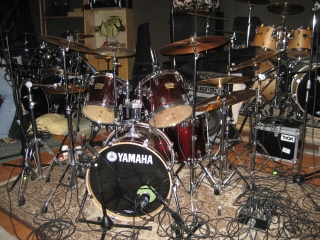 #2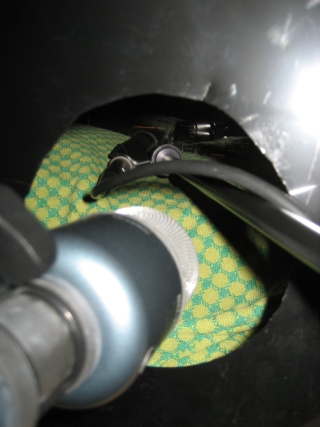 depth beyond bass drum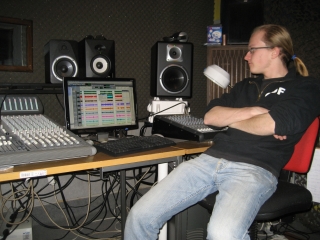 jarru the studio guy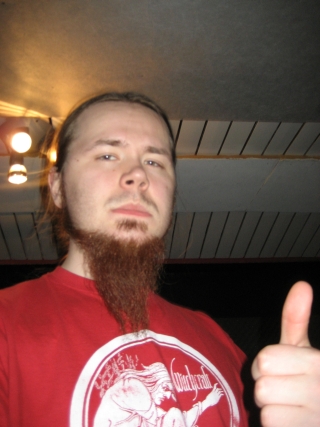 ok!
---
= 09.11.2008 =
"Drum day 3"

Today we recorded additional stuff like cowbell and some extra toms. It's gonna sound great on the final product! We will add some other percussions later but the songs are now ready to get some guitars. Everything's looking good.

-Jani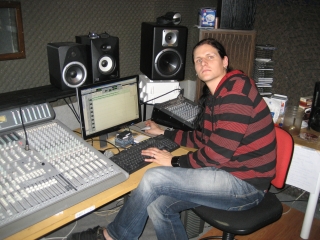 amok on duty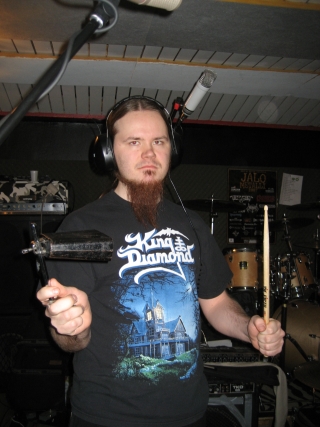 ready for some cowbell action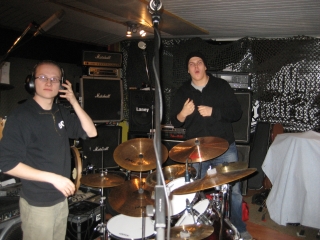 jarru & mikko posing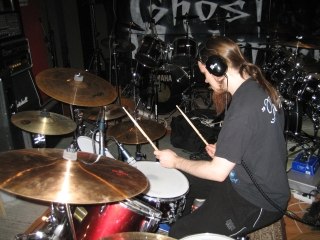 final takes
---
= 12.11.2008 =
"Feast upon the matter.."

Hi Now that we have recorded all the drum tracks, we are concentrating on other instruments. Antti is mixing up the drum tracks while Mikko is shredding his guitar tracks down. Then its time for me and Raine to do basses and synths. We are anxiously waiting for Raine's material, since some of it is very new and no one has even heard them yet! I have some bass tracks not trained yet, but they will be ready soon.

Also we have some lyrics to do with Antti. The theme is getting a bit clearer for me, but I think no one else has a clue about it. Thats part of my plans! Mysteries and riddles keep the mind fresh for old and new thoughts.

Waiting, Jarru
---
= 15.11.2008 =
"Progression"

Hell yeah, Mikko's marvellous guitar tracks are getting ready. Next week's schedule includes, in addition to ongoing mixing, recording of the remaining percussion stuff and maybe starting off some bass work.

Here's interesting track by track quotes from Mikko:
1. starts off ruff
2. diverse but fucking hit material
3. cool off
4. Opeth meets PoS
5. faster pace
6. vigorous hit stuff
7. exotic course
8. there's still hope
9. getting ready for destruction
10. the culmination point, going frenzy!

And yep, it seems that RLE has gained some more tracks compared to our original plan. Total lenght will be around 50 minutes. Artwork is getting ready too and it will be tremendous. This time it's done by exterior artist, Anna Koivukangas.

Here's some footage from the drum recordings:


...and more drum stuff is coming, maybe even some whole songs (recorded with two cams).

-Jani
---
= 23.11.2008 =
"Percussion session"

Today we travelled through the furious snowstorm to our rehearsal place and recorded the rest of the percussion parts. At least following things were played: cowbell, bongos x 2, rhythm egg, jingle bells, bottle of water, bottle of lemonade, hands, some broken cymbals, pipes & vacuumer. Great stuff!

-Jani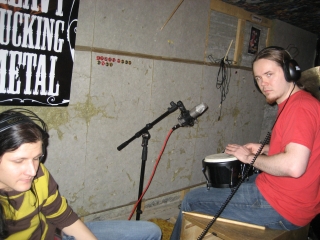 bongo fun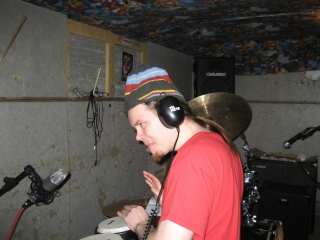 making history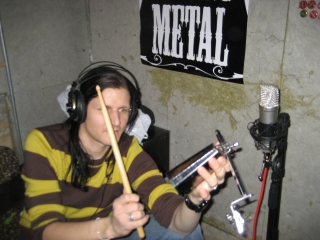 METAL it is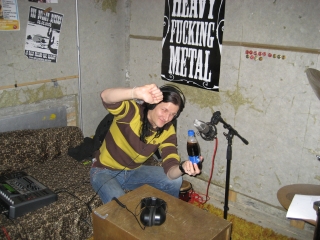 Amok vs Pepsi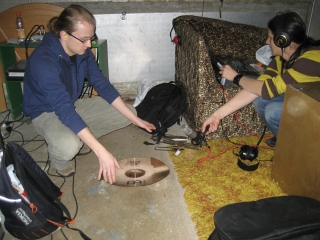 cymbal recordings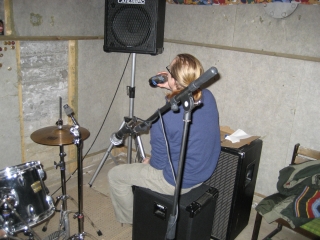 Jarru enjoying his daily dose of Pepsi



exotic sounds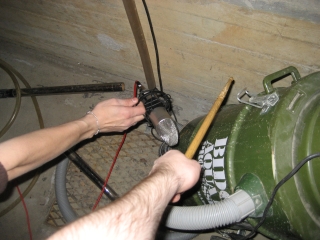 yep.. pretty damn hairy arm there!


---
= 03.12.2008 =
"Red Lines Entwined: Guitar Studio"

"Wow, this is going to be a lot of work" was the first sentence in mind when I first started recording the full album. That said I don't mean to brag when I say the guitar tracks were recorded during two long nights. The songs were all very familiar since some of the riffs were originally made for Ebb. I promise the quality of my work was not downgraded by recording in a hurry!

After thinking it through I decided to record everything at home. Everything was recorded with Boss GT-10 and I mainly used my EBMM JP7 because it can handle all the tunings needed. Now, I must say that I've started to invest in gear a lot more since early DBO days but this time I nailed the guitar tone with just an effective amp modeler. I do admit that earlier DBO guitar tone sucked... I hope it's better now.

Some of the lighter songs were really hard to record at nights. I mean how the hell are you supposed to stay awake at 5 AM recording a ballad. Then again while recording the song "Red Lines Entwined" I got my first blister while playing guitar in my index finger. Let's just say that not everything was tracked with the first take. I've been known for insensitive drilling solos but this time I really added a lot of taste into solos. Influences: Chinese Democracy album/Ron Thal, Santana etc. but I mostly tried to sound like me. Rhythm guitars were everything from Killswitch Engage to Meshuggah, Dillinger Escape Plan and Slipknot. Must admit that not all of these genres come naturally from me but I'm a versatile composer. Clean guitars are a crossbreed of Opeth and Pain Of Salvation.

In the end I'd like to advertise the album by saying there is a song or two for everyone; About ten songs with all different genres everything from a pirate theme to the roughest metal. I'm positive that the album will be interesting, humorous yet severe and very very very very very progressive. Did I mention it was very progressive? -Mikko Logren


---
= 10.12.2008 =
"Bass stuff."

Acoustic bass tracks. Yep. Half of the bass tracks are recorded with my 4-string Ibanez electro-acoustic. The sound of it brings more warmth to the album. The rest of the bass tracks are played with my number one friend, 5-string Warwick Fortress One.

The bass tracks were recorded in two days - in less than eight hours total I guess. The album is quite mellow in matter of fact, not that much of tapping and slapping in midst of metal riffs but surely some parts are played that way and are heavier than ever. I'm especially happy with the acoustic sound, and you might find it from some extremely weird places in the songs. Warwick sound is decent I think.

Synths and vocals to go! Can't wait! Check out some videos and photos from the bass sessions!

-Jarru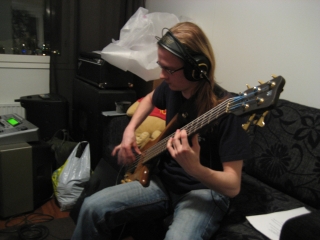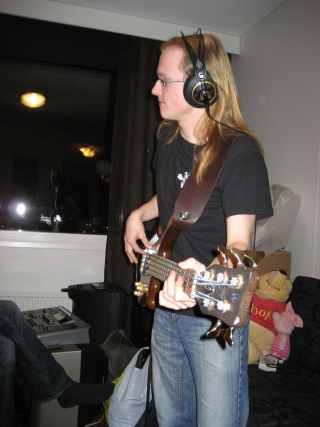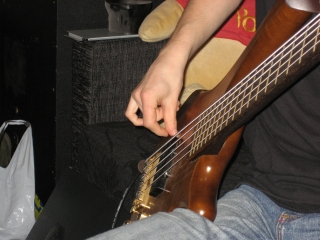 ---
= 30.12.2008 =
"Getting there"

Christmas time went quite smoothly eating and drinking while listening DBO-tunes. I have to admit that those haven't yet gotten me bored even after countless listens of every piece.

Our keyboard wizard Raine has lately been busy recording some nice sounds for the album. In addition, the vocal duties by Antti are almost finished. He's also been working hard on putting the stuff together and mixing it, so our praises goes to him. So far everything sounds very promising!

2009 will bring you the most awaited and desired prog metal album of our time. Hope you like it. Happy new year to all!

-Jani
---
= 31.01.2009 =
"The agenda"

Album process in January included mostly mixing and getting the right sounds. But we also dropped one rather old song off because it didn't seem to fit very well within the overall mood of the album. So we got one beautiful and haunting piano track from Antti and that's in progress right now. After that there's just one vocal piece to do and we're heading for the final mixes.

Expect some epic keyboard footage from Raine here soon!

-Jani

Btw, some drum videos from the studio (7.-9.11.08):

Wraith:


"crust":


"mommy":


"pirate":


"broom/leaves":

---
= 17.02.2009 =
"A roar from the depths"

Hi to you all. We are still here. Long winter of Finland has camouflaged our bright minds in the darkness. But alas! We have not been hiding or been lazy. No! We have carved a new masterpiece in to the hard rock beneath us. Something beautiful has been created again. "Red Lines Entwined", the debut album of Depth Beyond One's is going to come out while the maiden of spring is still trying to get her will through the stubborn head of winter. Soon, my friends, soon!

The 10-piece record (approx. 55 min) is a concept album. Theme and the storyline are from the handwriting of bassist Jari-Pekka Kanniainen. Music and the composing are superb, and some of the songs have been under work for more than a year. All five members have had their influence on the music. Lots of spiritual blood and tears have been shed creating this and it can be definitely heard!

Hails and hy's,

Depth Beyond One's
---
= 08.03.2009 =
"Getting closer!"

Tuesday evening 03.03.09 was magical and epic moment in the recent history of Depth Beyond One's. The whole band gathered together for the first time after the last rehearsals for the album that took place about half a year ago. We took some time to distress Antti the mixer guy for the last time. Also the final song order was being pondered with this very handy method: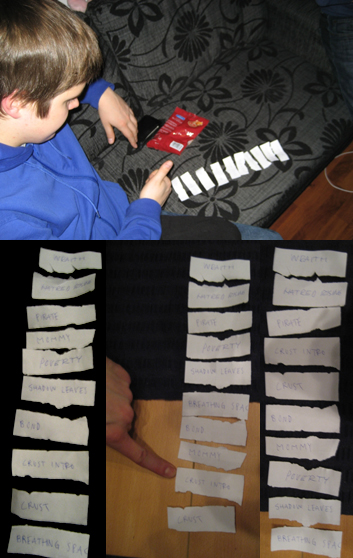 Everything seems pretty good at the moment. The album is finally mixed and it sounds great. And you can expect to hear it soon! We're planning to make the whole album listenable through RLE page that's going to be released in the near future.

When we get the album artwork finished (the art is done, but the work is in progress..) we'll get some pressed CDs with full color booklets containing all lyrics and tremendous art from Anna Koivukangas. The edition will be limited and most probably hand-numbered. More info about this will come when we get the copies in our hands.

We'll release the final song titles and order very soon. So keep on stalking the site! The wait is almost over.

-Jani

(some selected takes from the last sessions:)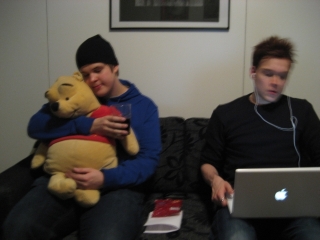 I have no words to explain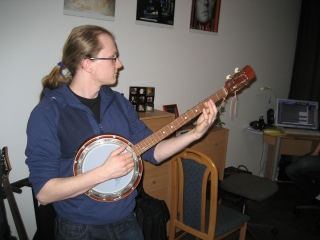 Jarru the banjo champion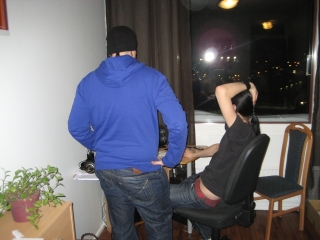 Mikko & Antti in the zone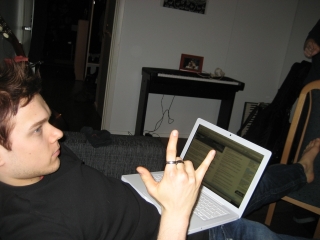 Raine and the barefoot pose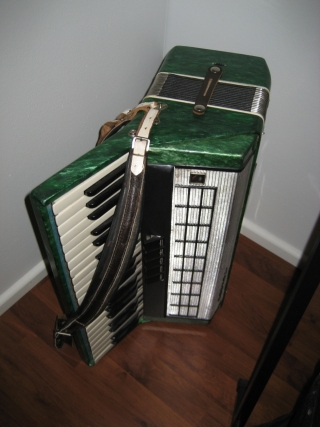 The noble instrument used on the track "Poverty"
---
= 08.03.2009 =
"Things are starting to look brighter"

4 months, 12 drum tracks, 6 guitar tracks, 2 bass tracks, 9 vocal tracks, 17 synth tracks, 14 percussion tracks, 14 instruments, hundreds of emails and god knows how many hours of mixing. I can honestly say that I am happy as the album is getting ready to be released. And I can only be happy with the final result. What the album loses with its sounds to the records made with big money, it wins them with its content. I think the album became well-balanced and dynamic (sound wisely). It is also musically very dynamic and diverse.

I hope that "Red Lines Entwined" will get the attention it deserves and also a little success. The recording and mixing process have been long and heavy. These four months have included good and bad days, belief has weakened and strengthened, but all that trouble was worth it.

Would I do it again? I'll ask that myself again MAYBE after a year.

-Antti Karhu
---