BAND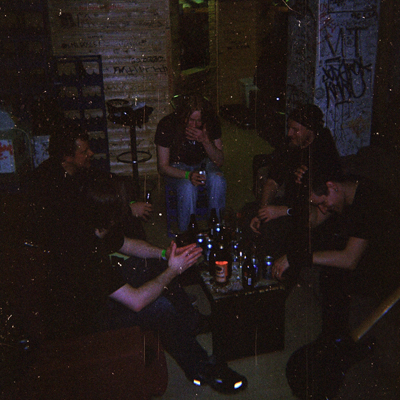 Jouni Koskela - Vocals
Antti Karhu - Guitars
Jyrki Hiltunen - Guitars
Timo Tyynismaa - Bass
Jani Kuorikoski - Drums
Biography
The Oulu-based collective of death metal ambassadors, CLOCK PARADOX emerged early 2009 when Antti Karhu (THE MAN-EATING TREE) and Jyrki Hiltunen (IMPISH, RECTUM) determined to continue pursuing the progressive yet brutal approach to metal. The duo plotted their musical direction for a brief while prior to the joining of drummer Jani Kuorikoski (DEPTH BEYOND ONE'S, JOINT DEPRESSION). With the core line-up being established initial rehearsals proved to be productive and the material for the first promotional release was ripe enough to be harvested.

Simultaneously, the band was in search for a bassist. Timo Tyynismaa (KOMI BELL) contacted the band, mastered the auditions and complemented the band chemistry. After two self-crafted promotional discs and a couple of local shows, Antti decided to focus solely on the guitars. This enabled the quartet to recruit a powerful-voiced young lad named Jouni Koskela (ABYSMALIA, VERMIVORE) to complete the line-up.

As a five-piece orchestra, the band rehearsed intensively and brainstormed an abundance of new material. A small number of gigs were played at local venues throughout the year 2010, earning solely positive feedback from the audience. Extensive rehearsing subsequently resulted in more focused and careful arrangements and eventually the band started recording what was turning out to be the final promotional release. "The Five Precepts" was released in December 2010 to a widespread critical acclaim.

Along with few shows in support for "The Five Precepts", the band underwent an extensive songwriting process during the latter half of 2011 and eventually started recording in early 2012. Upon completing the manufacturing process of their full-length debut "Egotheism", the band inked a deal with Inverse Records and shot a music video to support the abusive aural chaos to be unleashed in November 2012.

Future plans for CLOCK PARADOX consist of constantly ongoing songwriting process and total stage domination in terms of edgy, technical and progressive aspects of ever-evolving death metal.